The Institute for Free Speech's litigation team works to fulfill IFS's mission to promote and defend First Amendment rights to free political speech, assembly, and petition through strategic litigation.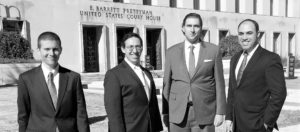 To that end, the team represents clients across the country, on a
pro bono
basis, in order to secure the clients' First Amendment rights. Through 2016, IFS has represented over 20 clients whose rights to free speech and free association have been infringed by state or federal laws. Legal Director Allen Dickerson and his team of experienced attorneys have fought for their clients' rights at all levels of the litigation process, from initial filing all the way to the Supreme Court. IFS boasts a diverse array of clients from across the political spectrum who share one common trait – a willingness to fight to protect their constitutional rights. Despite the difficulty in challenging entrenched power in states and the federal government, IFS takes on the tough cases that are necessary to protect the rights of citizens.
The IFS litigation team also engages in extensive amicus curiae efforts to provide their top-level expertise to courts. In doing so, IFS regularly teams with top legal scholars and organizations across the country in order to provide the courts with unique experience or perspectives that otherwise would be lost. Through 2016, IFS has written over 55 amicus briefs.
From Nevada to Delaware, Colorado to Washington D.C., the Institute's litigation team has worked tirelessly to defend the First Amendment. To learn more about IFS cases and efforts, check out some of IFS's cases below.
For information about IFS current cases, click here.
For information about IFS completed cases, click here.
For information about IFS amicus work, click here.
Calzone v. Missouri Ethics Commission
Can a state government fine you simply for talking to state legislators? That is the question at the center of Calzone v. Missouri Ethics Commission.
Mr. Calzone's difficulties with state regulators began on Election Day in 2014, when the Society of Government Consultants, a lobbyist guild in Missouri, filed a complaint with the Missouri Ethics Commission. The complaint claimed that, when Mr. Calzone spoke with legislators during his advocacy, he was acting as a paid lobbyist – and that his failure to register as a lobbyist with the state was against the law, subjecting him to fines and possibly even jail time.
The IFS Legal Team has stepped in to defend Mr. Calzone against these charges, representing Calzone in September when his case came before the Missouri Ethics Commission. The Ethics Commission has argued that because Mr. Calzone has publicly mentioned his involvement with Missouri First – a nonprofit organization with no financial resources – he must register as a lobbyist and list Missouri First as the organization for which he is speaking.
Can the FEC punish an individual for giving advice? That is the question at the core of Federal Election Commission v. Jeremy Johnson and John Swallow.
The Institute's legal team has stepped in to defend former Utah Attorney General John Swallow. The FEC is looking to punish Mr. Swallow for an alleged illegal contribution that Mr. Swallow neither gave nor received. The FEC's justification for this punishment relies on an overbroad and unconstitutional rule that punishes Mr. Swallow for his speech – in this case his verbal "help" to Mr. Johnson. This regulation is a clear violation both of the FEC's regulatory authority and the First Amendment rights of those looking to speak and associate with candidates and donors.
Howard Jarvis Taxpayers Association v. Brown
Can California legislators overturn the will of the people in order to institute tax-financed campaigns? That's the question in Howard Jarvis Taxpayers Association v. Brown.
In 1988, voters passed an initiative in California that prohibited tax dollars being spent on any politician's campaign. This initiative was again supported by voters in 2000, along with a provision that prohibited California legislators from overturning this ban themselves. Instead, any changes to California's ban on tax financing must be done through the state's initiative process, controlled directly by the voters. But in 2016, California legislators ignored the voters of their state. They passed, and Governor Jerry Brown signed, a law that allows tax dollars to go directly into politician's campaign coffers.
On behalf of the Howard Jarvis Taxpayers Association and retired State Senator and Judge Quentin L. Kopp, IFS joins the Center for Constitutional Jurisprudence and Bell, McAndrews, and Hiltachk, LLP in a suit against California for enacting this law, in violation of the State's Constitution and the will of the citizenry.
Institute for Free Speech v. Becerra
Does California's attorney general have the power to ban a nonprofit organization from asking for donations unless it hands over a list of its past supporters for inspection, even if the group has no involvement in elections? That simple question is at the heart of Institute for Free Speech v. Becerra.
Can a candidate for the Connecticut General Assembly send a mailer opposing the policies of the governor? That is the question at the center of Joe Markley and Rob Sampson v. State Elections Enforcement Commission. The SEEC ruled that a campaign mailer that criticized the governor's record was an illegal expenditure on behalf of the governor's opponent, even though it was sent to promote the Markley and Sampson campaigns. This is a clear First Amendment violation; campaign regulators cannot fine candidates for expressing their policy positions in a mailer.
The November Team, et al., v. Joint Commission on Public Ethics
The New York State Joint Commission on Public Ethics is attempting to force public relations firms and other individuals who communicate with the media about public policy to register as lobbyists. This case raises the simple question whether a state agency can, consistent with the First Amendment, declare that private communications with the press constitute 'lobbying,' and then mandate persons who so communicate to submit to a burdensome regulatory regime that exposes them to criminal prosecution or fines for non-compliance. The answer, emphatically, is "no."
Can a state force you to tear down your billboard because they don't like the content of the message? That is the question at the heart of Thomas v. Schroer. The Institute is representing William Thomas, the owner of several roadside signs. Since 2006, Mr. Thomas has been at loggerheads with the Tennessee Department of Transportation (TDOT) and its lengthy billboard regulations. TDOT demanded that Thomas take down a number of billboards he owns, including one used to cheer on U.S. athletes in the Olympics and another that celebrated "the glory of the season" during the holidays.
TDOT, and its commissioner John Schroer, have argued that they can remove the signs in the interest of "traffic safety" and "aesthetics." The Institute has stepped in to ensure that states do not infringe on speech rights without cause. Tennessee cannot silence a speaker simply because it thinks it harms highway "aesthetics." The First Amendment stands against the notion that government may prohibit speech on the basis of its content. Mr. Thomas should be free to celebrate "the glory of the season" all year round.