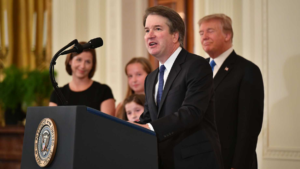 On July 9, President Trump Nominated Judge Brett Kavanaugh of the U.S. Court of Appeals for the D.C. Circuit as the nominee to fill the Supreme Court seat left vacant by the retirement of Justice Anthony Kennedy.
Based on our analysis of Judge Kavanaugh's opinions, the Institute for Free Speech enthusiastically supports this choice. Judge Kavanaugh has an extensive and well-regarded record, and has long demonstrated a healthy skepticism of government attempts to restrict First Amendment political activity. To read our full press statement on the nomination, click here.
For a thorough analysis of Judge Kavanaugh's prior decisions relating to First Amendment jurisprudence, see the posts below:
Kavanaugh Joins Opinion that Helps Ensure FEC Enforcement Actions Remain Free of Bias (August 13, 2018)
Part IV: Judge Brett Kavanaugh Authors Pro-Speech Dissents in Two Communications Act Cases (July 5, 2018)
Part III: Judge Brett Kavanaugh Joins Pro-Speech Opinion Upholding Rights of Protesters (July 5, 2018)
Part II: More on Judge Brett Kavanaugh's Campaign Finance Opinions (July 5, 2018)
The Free Speech Record of Judge Brett Kavanaugh, Part I (July 5, 2018)
For a rebuttal to an analysis of Judge Kavanaugh's free speech record from the anti-speech Campaign Legal Center, please see the following analysis by Institute for Free Speech Chairman Bradley A. Smith:
Setting the Record Straight: A Response to CLC's Attacks on Judge Kavanaugh (July 18, 2018)
Below are additional Institute for Free Speech analyses on the free speech records of some of the judges on President Trump's shortlist of potential Supreme Court nominees who were not nominated to fill the Court's vacancy.
Judge Amy Coney Barrett: No Substantial Free Speech Opinions Yet (July 5, 2018)
UPDATED: Judge Joan Larsen's Record Offers Few Clues about Her Views on Free Speech (July 5, 2018)
Judge Amul Thapar Broadly Supportive of the First Amendment (July 3, 2018)
An Update on the Records of Judges Thomas Hardiman and Raymond Kethledge (July 3, 2018)
More on Judge Thomas Hardiman's Views on Free Speech (January 30, 2017)
Judge Raymond Kethledge Applies Careful Scrutiny in Striking Contribution Ban, But Waves Through a Law Targeting a Union (January 26, 2017)
Judge Thomas Hardiman Applied Careful Scrutiny and Invalidated PAC Ban, but Passed on Opportunity to Correct DSF Panel Ruling (January 17, 2017)
More on Judge Diane Sykes: Despite Strong Pro-Free Speech Rulings, Two Cases Where She Upheld Restrictions (January 26, 2017)
More on Judge Diane Sykes: From Backpage's Adult Ads to Anti-Gay Protests, a Strong Defense of Free Speech (January 26, 2017)
Opinion by Judge Diane Sykes in Barland II "One of the Strongest, Pro-Free Speech Circuit Opinions Post-Citizens United" (January 23, 2017)
Good Signs for First Amendment in Judge William Pryor's Rulings on Tax-Financing, Political Sign Cases (January 18, 2017)
Judge Raymond Gruender Supports Nonprofit Speech Rights in Key Minnesota Case (January 17, 2017)
Judge Charles Canady on Judicial Campaign Speech Rights: Pro-Speech, then a Mystery in Williams-Yulee (January 10, 2017)
Judge Charles Canady in Congress: A Strong but Mixed Pro-Free Speech Record (January 10, 2017)
Judge Steven Colloton Would Grant Lawmakers "Extreme Deference" to Limit Free Speech (January 10, 2017)