Following the Senate's confirmation of former Representative Tom Price as the Secretary of Health and Human Services in early February 2017, all eyes have been on Georgia's 6th congressional district. After Democrat Jon Ossoff narrowly failed to meet the 50%-plus-one vote threshold, which would have given him the seat outright, a runoff with Republican nominee Karen Handel was scheduled for June 20.
For months, national newspapers with readership across the country, such as The New York Times, The Wall Street Journal, and the Los Angeles Times, have been fervently covering the race. Even the BBC got in on the action. Many pundits saw this election as an opportunity to vindicate or repudiate the actions and policies of President Donald Trump and the Republican Party since the November 2016 elections.
With some tough negotiations happening on Capitol Hill concerning health care and taxes, many Republicans were hoping a victory in Georgia would reignite the support of their base and bolster those holding vulnerable GOP-held seats before the midterms. Meanwhile, many left-of-center folks saw the runoff as a "Trump referendum," hoping an Ossoff victory would turn the tide of the Democratic Party. To them, flipping a district that had been handily won by Republicans since 1979 would cement confidence in the Party ahead of the 2018 elections.
In the final weeks, much of the coverage concerning the special election centered on the sizable sums raised and spent in the race. Groups on both sides of the aisle decried the special election as the most-expensive House race ever, pointing to the fact that it cost nearly twice as much as the second-most expensive House race in history.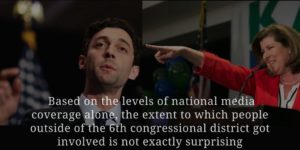 Based on the levels of national media coverage alone, the extent to which people outside of the 6
th
congressional district got involved is not exactly surprising. It's important to remember that although the race did not occur on the first Tuesday of November, it was still a
federal
election, with
national
implications. As such, it is not out of the realm of possibility that a concerned voter from Virginia or Massachusetts, who may not be able to physically volunteer in Georgia, would want to participate.
Ossoff and Handel raised $23.6 million and $4.5 million, respectively, with a significant chunk of Ossoff's funds coming from out-of-state donations. California donors contributed $1.6 million to Ossoff's campaign while $1.2 million came from his supporters in New York. In response, Handel and her supporters were quick to dismiss interest in Ossoff's campaign, saying that "an ultra-liberal, backed by Nancy Pelosi, is trying to steal this seat" and that voters in Georgia were "not interested in people from California, Massachusetts, and New York buying this seat." Democrats retorted by arguing that spending by political committees and super PACs "tied to the GOP" on get-out-the-vote efforts in favor of Handel was more concerning.
These attacks were intended to make Ossoff and Handel seem undemocratic and shady, but in reality, both candidates were really just lashing out at anything that benefited their opponent. Ossoff and Handel clearly had very different platforms that were going to resonate with distinct groups of voters, and the fundraising methods they used were a reflection of this reality. Moreover, the attacks from both sides mirrored tactics that have been used countless times before in campaigns across the nation.
Is it really so unimaginable that a race that could potentially change the trajectory of both major parties ahead of the midterms in 2018, that garnered an enormous amount of media attention across the country, and that had fascinated Americans throughout the U.S. could raise that much money? I don't think so!
Most special elections admittedly do not attract a lot of attention, but the impact of the outcome in this race went beyond simply filling a seat in the House of Representatives. There was a lot of interest in this election – by voters in Georgia, residents of New York and California, and political action committees and advocacy organizations alike – because it was a big deal. Handel's victory on Tuesday night could be construed as a sign to the Republican Party to stay the course and pursue their agenda, and it could also be taken as a sign by the Democratic Party that it's time to change their strategy before the midterms. Either way, it was a crucial election for both parties, so it is unsurprising that individuals from across the country got involved.
Further, following the election of President Trump in November, many people who largely stayed silent before have become more engaged in politics. Is a more involved and outspoken electorate really something to rebuke? Of course not. Phone-banking and door-knocking are great ways to get involved and donate your time to candidates or groups whose message resonates with you, but not everyone has the time or ability to do that. Donating money just happens to be a convenient way for voters across the country to voice their opinion and stay active in American politics.
We should be encouraging – not stigmatizing – increased engagement in the political process. At the end of the day, the significant spending levels in the special election between Handel and Ossoff is merely a reflection of this increased interest in our politics.